Firecrackers could be heard across Delhi on Diwali night even though the ban was imposed And after the ban on all types of firecrackers in Delhi, hundreds of people were booked for bursting crackers on Saturday on the occasion of Diwali. The National Green Tribunal (NGT) had imposed a complete ban on sale or use of all types of firecrackers within the capital Region (NCR) till November 30 midnight.
Delhi Police arrested quite 850 people and registered over 1200 cases for against those that continued to burst crackers and sell them a complete of 1314 kg of firecrackers were seized in Delhi on Saturday
According to Delhi Police, 139 calls were received from the Rohini district and 65 FIRs were registered against violators and two cases were against the illegal sale of firecrackers, in Dwarka 72 cases against the bursting of firecrackers were registered. and the police seized 68.85 kg of firecrackers from the south district alone and a total of 1300 odd kilo grams was seized. The Delhi police assured that it will be taking serious actions against these offenders
According to the CENTRAL POLLUTION CONTROL BOARD (CPCB), the overall air pollution of the city worsened on Sunday morning was the worst compared to previous months with PM2.5(Deadly Pollutant) level 435gm/m3 whereas the safe limit was 60 g/m3. The AQI that is theAIR QUALITY INDEX was approximately 460 which actually should only be between 0 to 50! AQI beyond 410 is considered very hazardous to health. The pollution levels crossed the emergency threshold on Sunday morning causing hazy weather and pungent smell in the air.
"Everyone was posting images of clear blue skies during the COVID-19 lockdown. Now, we all can see how bad the pollution is. Bursting of cracker will make things worse," a doctor from Delhi said to the press agency PTI.
Officials said that around 138 licenses were issued for selling fireworks before the ban was announced by the Delhi government as well as the National Green Tribunal but they were immediately cancelled as soon as the ban was announced, therefore the Delhi Police blamed this condition on the delay of announcement by the authorities ,they said that the fire crackers were already sold before the ban was announced hence causing an environmental havoc. "Firecrackers were already sold in Delhi and then came the ban. People had purchased and stocked firecrackers in their houses as they await Diwali the whole year," A senior officer from Delhi stated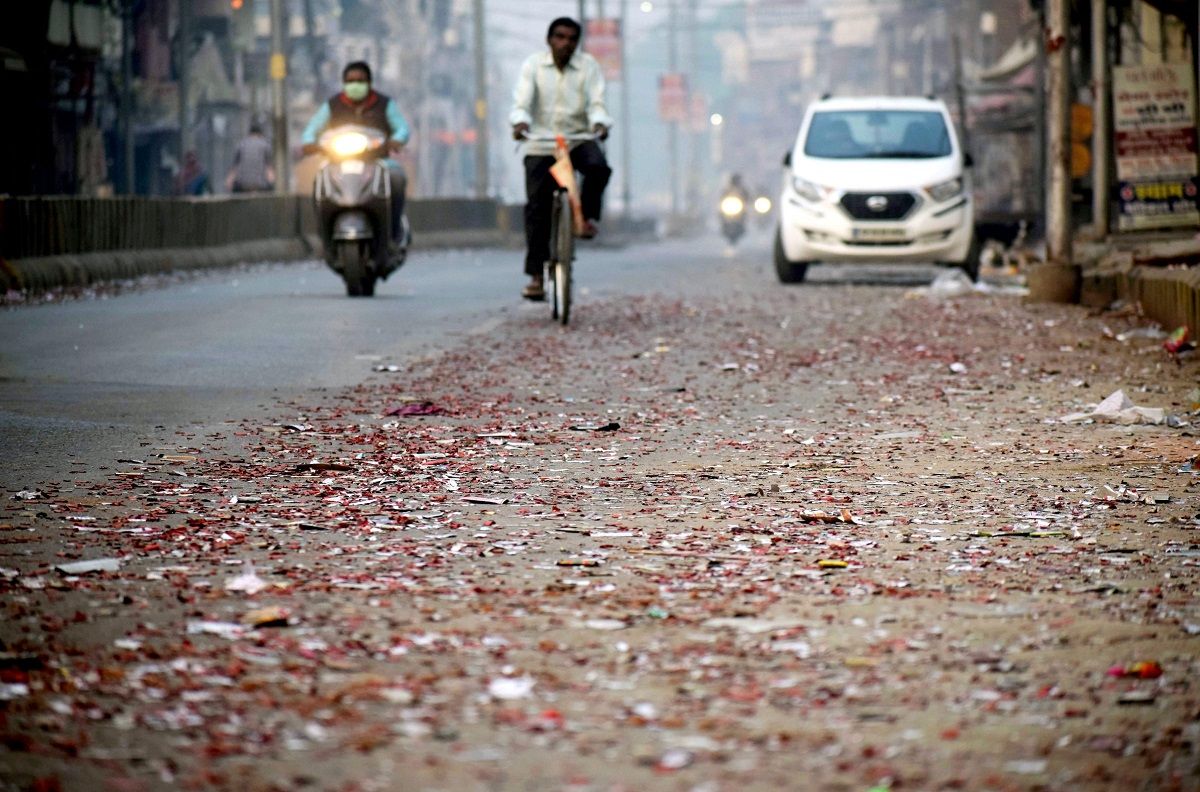 The officials also stated that there are a lot of difficulties while catching hold of these offenders "Once we receive a call from a complainant, we act promptly. But by the time we reach the site, it becomes difficult to identify and locate who burst the cracker, People themselves need to take a pledge to stick to rules and abide by them," a politician said.
Diwali may be a Beautiful festival of lights and not smoke we as individuals must remember and be responsible enough to understand that bursting firecrackers only causes pollution and affects our body as well as the environment we are living in.
Also read: GDP contracts by 8.6% in Q2, India heads to a "Technical Recession"