Inside Edge has received positive critical reception and was nominated for Best Drama series at 46th International Emmy Awards and rated 8.0/10 on IMDB. Inside Edge is the first Hindi Web series on Amazon Prime, it is the story of the Mumbai Mavericks, a T20 cricket franchise playing in the Powerplay League. Set in a landscape of conflicting interests, where selfishness is almost a virtue, where sex, money, and power are mere means to an end, Inside Edge is a story that pulls no punches, minces no words, and takes no prisoners. Come witness the game behind the game. There is a lot of reality in a way like, when a cricket fan watches the show they know a premise is a reference to something that happened on the cricket field. But what leads to that particular event is dramatized and fictionalized. Inside Edge is an Indian Web series directed by Karan Anshuman, written by Karan Anshuman, Saurav Dey, Ameya Sarda, Niren Bhatt and, Sailesh Ramaswamy, and Produced by Farhan Akhtar under the production company Exel Entertainment on Amazon Prime Video
Fans will have to wait for season 3
Inside Edge 3 is one of the most-awaited and anticipated seasons of the Indian web series for its fans. The fans are excited as the show makers had already commenced working on this season back in January, but the prevailing pandemic has affected the entertainer industry negatively hence the show is still under production. Some reports also state that the season won't go on air this year as there was a 2.5 years gap between season one and 2 thus the fans will have to wait longer for Inside Edge Season 3 as the release dates have not been confirmed by the makers.
Who's joined the Cast ?
The cast arrangement remains the same where Vivek Oberoi plays Vikram Dhawan, owner of a leading sports management brand, Amir Bashir as Yashwardhan Patil, Sapna Pabbi as Mantra Patil, Tanuj Virwani as Vayu Raghavan, Siddhant Chaturvedi as Prashant Kanaujia, Richa Chadha as Actress Sarina Mallik, Angad Bedi as Arvind Vashisht, Sayani Gupta as Rohini Raghavan, and Sanjay Suri as Niranjan Suri repeating their roles same as season one and two, apart from them Akshay Oberoi has also been roped in to play the role of the Captain of the New Team in season 3.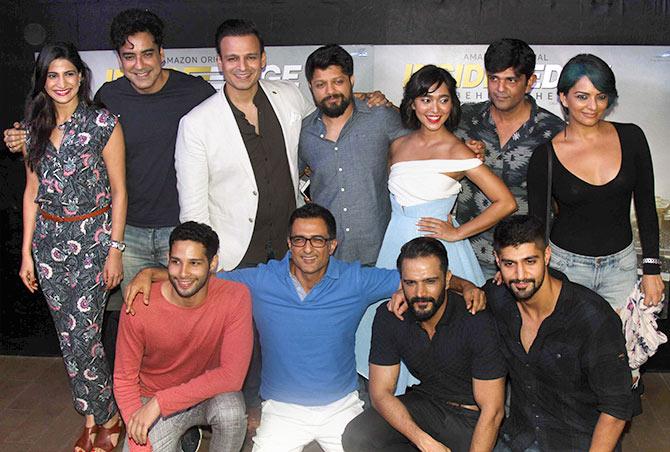 SPOILER ALERT! : Plot
If you still haven't finished both seasons of Inside Edge, you have to finish it fast to come back and read to know more about the plot of season 3. As we know the series revolves mostly around a T20 Cricket Team: Mumbai Mavericks, in season 2 the audience was left in suspense as the season closes with the team has faced a ban for 20years due to their involvement in match-fixing. Therefore it is anticipated that the new season would come up with the aftermath and consequences due to the ban