Ever since the US Presidential Elections 2020 started, stars and many other celebrities have been urging the US citizens to vote. Out of the many stars also include the Former First Lady of the US, Michelle Obama. She has been asking her US followers to vote. In the recent updates, she launched the #votingsquad campaign on both Instagram and Twitter to urge everyone to vote in the US Elections 2020.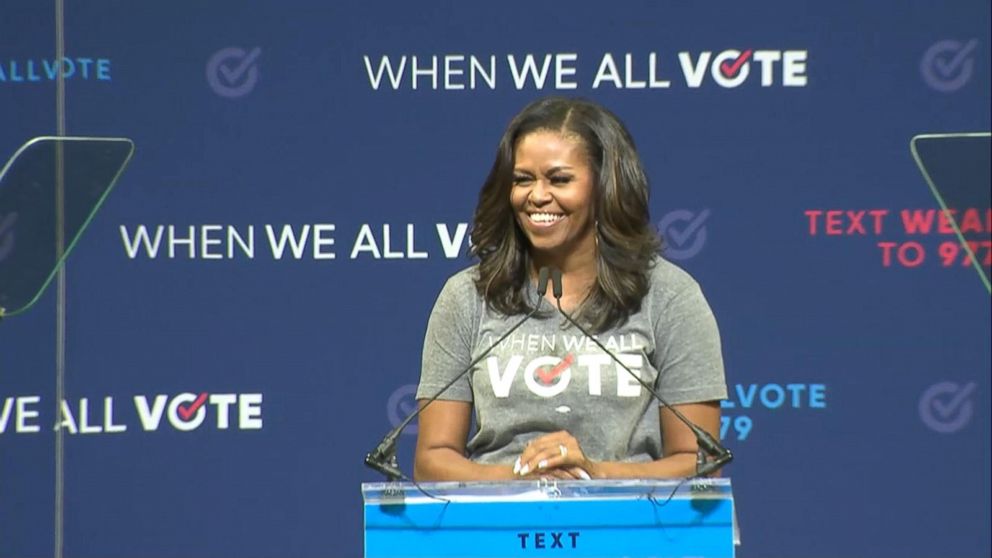 Also read: Donald Trump Vs Joe Biden Debate Gets Intense At The Presidential Debate 2020
Michelle Obama Urges Voters To Vote In US Elections 2020
Writer and former First Lady of the United States recently launched a #votingsquad campaign to urge her followers to go and vote in the US Elections 2020. In the post, she shared a picture of herself and launched the campaign. In the caption, she asked the people to text or tag three other who they think wouldn't vote and further ask them to vote as well. She further asked them to click pictures and post them on Instagram and use the hashtag #votingsquad. Obama asked everyone to make a plan to vote together.
Along with her followers, she tagged some of our friends too. She asked everyone to join the initiative at "weall.vote/votingsquad".
Also Read: Indian-Americans powering the US!: Joe Biden
Michelle Obama Joins LeBron James To Promote Early Voting In US Elections 2020
Michelle Obama has been active on her social media is urging everyone to vote for US elections 2020. She recently partnered with NBA star LeBron James and other Black athletes and entertainers to support events in major US cities to urge voters to vote early for the November 3, 2020 elections.
The Becoming author's When We All Vote and James's More Than A Vote have teamed up to spread information and provide transformation, food, personal protective equipment (PPE Kits) and other support materials near the voting sites from October 18-October 31, 2020. In a statement, Mrs Obama said that millions of Americans have already cast their vote, but there are still a few left. With only 21 days left for Election Day, it is crucial to vote early. She said that it's up to us to do everything that we can to ensure that everyone eligible to vote, votes, safely.
She and a couple of her friends announced that they would be donating $1 million in grants and supplies to help local organizations to conduct awareness sessions about voting for the US Elections 2020. At the same time, When We All Vote has scheduled a virtual couch party on October 23. Along with partner organizations like BET, Comedy Central, MTV and many more. All the attendees and staff at the ballot and voting areas are required to follow the COVID-19 Safety Guidelines as per the Centers for Disease Control and Prevention. This includes wearing face masks and maintaining social distance at all times.